99 Atlantic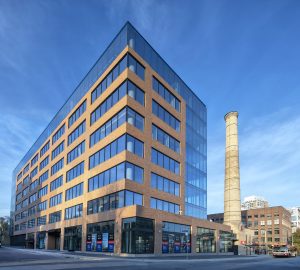 99 Altantic is a new state-of-the-art building of more than 140,000 sq. ft. of mixed-use space designed to meet the LEED Silver standards of sustainability in design (certification outstanding). This tower was conceived to architecturally sync with 40 Hanna and the boiler house to create Liberty Village's most distinctive office complex. The building's construction includes a landscaped courtyard at the center of the complex and a park at the corner of Hanna avenue and Liberty streets. The building's occupant will enjoy:
-7 floors of office spaces filled with natural light
-Street-front retail spaces on the ground floor
-Interior bike parking, showers and changing rooms
-Rooftop outdoor terrace
-Abundant underground parking
The building was completed in 2020.
Type of property: Office building, development project
Address: 99 Atlantic
Neighborhood: Liberty Village