1100 Atwater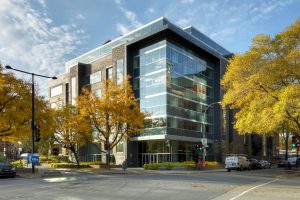 Located at the South-West corner of Tupper and Atwater Avenue in Westmount, the 1100 Atwater is a 7-storey loft-style building. This state-of-the-art 175,500 square foot project is overlooked by a large rooftop terrace. The building has been redesigned with the highest building industry standards.
The 1100 Atwater has a strategic location for any business that wants to be established in the heart of the city in a sector easily accessible by all public transport and sought-after for its exceptional quality of life, and just 5 minutes from downtown Montreal. The neighborhood is in full revitalization and experiencing an impressive boom. The building is near a wide selection of shops, restaurants, cafes, grocery stores, services as well as arts and entertainment centers
Type of property: Office building, redevelopment project
Address: 1100 Atwater
Neighborhood: Westmount
Number of levels: 7
Gross area: 175,000 sq. ft.
Area per level: 25,000 sq. ft.
Certifications: LEED Gold and BOMA Best Gold