Place Bonaventure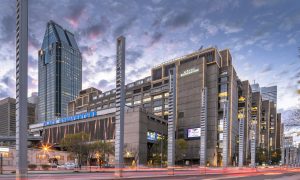 With 1.5 million square feet of commercial space, Place Bonaventure is the second-biggest building in the city's core. The Bell Centre, Windsor Station, Central Station and Place Ville-Marie are only steps away. Its location in Montreal's Quartier de l'Innovation was unmatched and it has a direct link to Montreal Underground City, the metro system and the commuter network.
When it was built in the 1960s, Place Bonaventure was considered an architectural gem, but by 2000, the building had become obsolete and only about 15 per cent of its rundown, poorly lit space was occupied. Radical actions were needed to save it, and Kevric took them. The interior was revamped and earned LEED Gold and BOMA Best Silver certifications in the process. The addition of windows allowed the light in and gave tenants spectacular views of the city and the South Shore. The unique character of its floors now allows tenants incomparable flexibility in space layout. In addition, new advanced mechanical and electrical systems were installed to meet the need of the most demanding companies .
Place Bonaventure is today one of the city's most modern tech complexes where offices, commercial activities and entertainment  are brought together under a single roof. The redevelopment of this majestic building has proven to be a great success.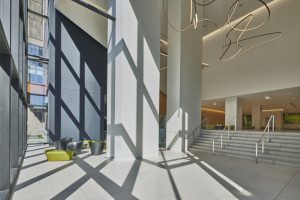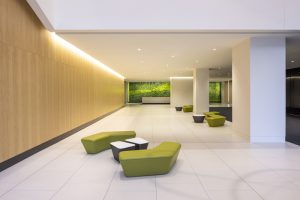 http://www.placebonaventure.com/
Type of property: Office building, redevelopment project
Address: 800 De La Gauchetière West
Neighborhood: Downtown
Year of construction: 1967, renovated in 2001
Number of levels: 15
Gross area: more than 3 million sq. ft.
Area per level: 235,000 sq. ft.
Certifications: LEED Gold & BOMA Best  – Silver level