65 Heward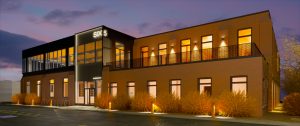 Located at the intersection of Heward Street and Eastern Avenue, 65 Heward is at the heart of the bustling Studio District, east of Downtown Toronto, where we can find tech, film and creative agencies among others. The complex included three inter-connected buildings and two film studios. Six5 Studios provides two film studios of approximatively 10,000 square feet each to big production companies, as well as two buildings with complete workspace for all related services that supports a seamless production.
The building currently located north of the studios is being redeveloped to provide approximately 35,000 square feet of modern office space with a large rooftop terrace. The renovations will highlight the original brick and beam construction and incorporate large windows to maximize the natural light in.
Additional development is also planned on the property with the construction of a 6-storey office building on Eastern Avenue.
Type of property: Office building and television studios, development project
Address: 65 Heward Avenue
Neighborhood : Studio District