Stéphanie Williams
Vice President, Leasing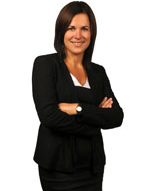 CONTACT
Stephanie's 20 years' experience in business and real estate law makes her Kevric's go-to person for making sure that the i's are dotted and the t's are crossed in the firm's rental agreements. She handles everything from promoting and showing vacant spaces to preparing and verifying the legal paperwork (rental offers, leases, transfers, letters of agreement, etc.).
Stephanie takes an active part in the corporation's due diligence process, whether in the framework of an acquisition or of an asset sale, of financing or the implementation of a new corporate structure. She also works with the accounting department to ensure annual corporate maintenance for all Kevric corporations.
Stephanie has a diploma of collegial studies in paralegal technology from Collège Ahuntsic (1995) and is a member of the Canadian Association of Paralegals.