Luigi Cecere
Executive Vice President and Chief Operating Officer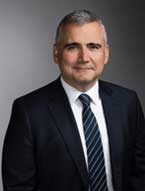 CONTACT
Luigi Cecere joined Kevric Real Estate Corporation in August 2017 as Executive Vice-President and Chief Operating Officer. Mr. Cecere is responsible for the company's Finance, Operations and Administrative functions
Mr. Cecere brings 25 years of finance and related experience to Kevric. Prior to joining Kevric, he occupied the role of Senior Vice President Finance and Strategic Planning for Sobeys Quebec Inc. He also held the position Senior Vice-President Finance for Aimia Inc. with overall finance responsibility for Aimia's North American operating units. Mr. Cecere also held various senior positions in the pharmaceutical industry from 1990 to 2009 including Chief Finance Officer of Schering Plough Canada Inc. from 2005 to 2009.
Within these various roles, he has gained a wide variety of experience in relation to commercial transactions, mergers and acquisitions, financial reporting, strategic planning and overall corporate governance & compliance management.
Mr. Cecere holds a Bachelor of Commerce and a Graduate Diploma in Accountancy from McGill University in Montréal (Canada). He is a chartered accountant and a member of the Chartered Professional Accountants of Ontario.