Ghassan Kotait
Senior Vice President, Construction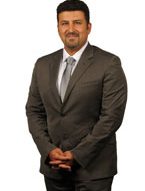 CONTACT
In collaboration with his team of project managers based in Montreal and Toronto, Ghassan supervises all of the construction projects in Kevric's portfolio, from the construction of new office or residential towers to capital projects and all aspects relating to delivery of spaces to tenants. His work begins with the initial proposal and isn't finished until the delivery of spaces to the tenants. He was involved in the repositioning of 150 Bloor Street West and in the delivery of leased space to prestigious tenants such as Louis Vuitton, HSBC and Tiffany & Co, in the construction of the Viger Tower, and more recently in the construction of the 99 Atlantic Tower in Toronto as well as in the redevelopment of 7250 Mile End, 1100 Atwater and Place Bonaventure among others.
Another important aspect of Ghassan's role is to assess real estate investment opportunities and development strategies while taking into account the initial condition of the asset and the costs associated with its development. He recently made an exceptional contribution to the acquisition of 600 De La Gauchetière West.
Ghassan holds degrees in both arts and engineering from Concordia University. He is a member of the Ordre des ingénieurs du Québec.