François Desjeans
Executive Vice President and Chief Investment and Asset Management Officer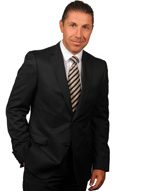 CONTACT
François has been involved in property management since 1994. Since arriving at Kevric, François has played a pivotal role in the development, operation and administration of top-rated properties.
Strategically, he orchestrates the company's new acquisitions, sales and partnerships. His expertise was essential in the acquisition of the Consilium complex in Toronto, 600 De La Gauchetière and redeveloping Mile-End and 1100 Atwater in Montreal, as well as 150 Bloor Street West in Toronto.
His leadership skills and his dynamic team have led Kevric's success at finding superior long-term tenants. With 99 Atlantic in Toronto, François played vital role in attracting clients such as Live Nation, Loblaws E-commerce and Redbull. With the 150 Bloor, he secured leasing with prestigious clients such as Louis Vuitton, HSBC and Tiffany & Co.
François has a Bachelor of Commerce in marketing from the École des Hautes Études Commerciales (1994) and a MBA from the Université de Sherbrooke (2002).