Corey Caverly
Vice President, Construction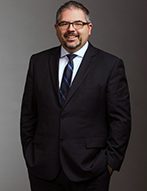 CONTACT
Corey Caverly joined Kevric in the summer of 2017 as Director of Construction. He then became Senior Director of Construction in 2018. In this role, he oversaw the redevelopment of 1100 Atwater in Westmount and is supervising the ongoing revitalization projects at Place Bonaventure. In December 2019, he was promoted to Vice President of Construction for the Greater Montreal.
With over 18 years of experience in construction and real estate, Corey began his career as a project manager with Construction SAJO, responsible for building high-end stores across North America. Throughout his career, he has worked with various construction and commercial real estate companies such as Rosdev and Shiller-Lavy, leading projects from the renovation of hotels to overseeing all operations and construction of properties. Corey has also made his contribution during numerous acquisitions and as well as advanced in the field of operations management and customer service. Corey always strives to deliver impeccable construction projects on time following allocated budgets.
Corey Caverly holds a college diploma in architectural technology from Vanier College.