65 Heward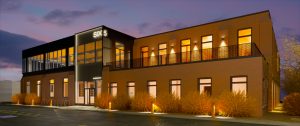 Conveniently located in the heart of Toronto's fastest growing neighborhood at the corner of Heward and Eastern Avenue just minutes from vibrant Queen Street East and Leslieville, 65 Heward is close to East Toronto's key amenities as well as tech, creative and film industries. 65 Heward consist of a loft-style office building of approximatively 35,000 square feet and two film and television studios of 9200 sq. ft. and 9600 sq. ft. with flexible production office space and fully supported with all the amenities required to support a seamless production.
The complex, which currently has three two-storey buildings, will be renovated and expanded to make them more attractive to new quality tenants and attract larger production companies. Recent renovations in the office space building highlight the original brick and beam construction and incorporate bright and airy windows to maximize daylight exposure.
In addition to the three existing buildings, the 65 Heward includes a large amount of land. A development plan provides for the construction of a 6-storey office building as well as two 14-storey buildings.
Type of property: Office building and television studios, development project
Address: 65 Heward Avenue