Geneviève Émond
Vice President, Legal Affairs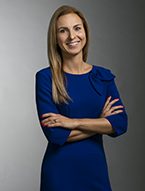 CONTACT
Geneviève Émond has established her experience in business and real estate law for over 15 years. Her expertise is focused on all aspects of real estate, including partnerships and joint ventures, acquisitions, sales and the development of major real estate projects in the greater Montreal and Toronto areas. Known for her business acumen and leadership, she has been called upon many times to direct and negotiate various real estate transactions.
Prior to joining Kevric in 2018 as Director of Legal Affairs, Geneviève worked for a national law firm and for private real estate development and management companies, among others.
As Vice President of Legal Affairs, she is responsible for all legal aspects of the business. Backed by her team of legal professionals, she supports and accompanies the leasing, operations, construction, investment and finance teams in all legal issues. She also manages company's Corporate Secretary's Office.
Geneviève is a graduate of the Université de Sherbrooke and a member of the Barreau du Québec.